Mary Cheung, Mary Pandora Cheung
Born: August 11th, 1952 (Hong Kong)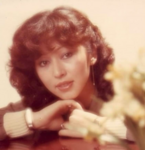 Biography
Miss Hong Kong 1975 winner. Former television actress of the latter-1970s. A businessperson and radio host of the program "Merry Mary" since the mid-1990s.

At the age of six, Cheung lost the care of her birth parents due to a divorce and became an orphan. She was left in the streets as a vagrant to fend for herself for two years before she was discovered and referred to the Social Welfare Department. She was taken to a charity organization Po Leung Kuk for adoption. Attended the Kiangsu-Chekiang College and upon graduation studied business at the Sacred Heart Canossian Commercial School.

In 1980, Cheung was married to Dr Peter Lee (李忠琛), the elder brother of the late Bruce Lee. Following which, Cheung retired from the entertainment industry and took up management courses at the Hong Kong Polytechnic University. She gave birth to a son Lee Wai-ho (李偉豪) in 1981 and a daughter Lee Yuk-yee (李珏頤) in 1984.

In 1995, Cheung and Lee divorced and her two children left with their father. Later on the same year, Cheung founded an image consultancy and media-relations training company.